Repco Electronics Ltd
A Brief History

Repco Electronics's roots date back to 1984 when Les French and Richard Pearce formed Audio Visual Systems (Northampton) Ltd and we designed and manufactured our first coach amplifier, the ADB520 for Lucas Electrical Ltd.
Having both previously been working for the 'Radiomobile Division' of Smiths Industries, when Smiths sold the Radiomobile brand name to Lucas Electrical, both of us were made redundant by Smiths.
So we decided to go it alone and continue the development of a new coach amplifier, that we had just started to conceive with Smiths. A contract with Lucas Electrical was secured and away we went!
In 1986 Les retired and and the company moved into larger premises in Gray Street - Northampton. Norman Arnold replaced Les and the company continued to grow. In 1990 the company was sold to the Sonicare Group, with further growth in mind, they promptly went bust in 1992! (Norman had by then also retired.)
So it was all to do again! In August of 1992 Richard formed 'Aftermarket Coach Supplies UK Ltd'- in Kettering and we carried on. In early 1993 a completely new amplifier was designed, the fore runner of the current ACS450. This proved to be even more successful than the original ADB520. (Total sales for ADB520 & ACS450 now exceeds well over 30,000 units. (2017))
Some time later, Lucas sold the Radiomobile brand to Armour Automotive and we continued to supply them with a version of the ACS450, the RMT620. We also supplied a version to Maystar.

With the economic downturn in 2008 sales fell dramatically and the company gearing was such, that trading became impossible. So regrettably A.C.S was closed and a new and much 'lighter' company was formed, Repco Electronics Ltd. The company still trades with most of its original loyal customers and suppliers. The product line up remains similar and one in particular, the ACS450 continues to evolve....
32 Years later we still source most of the components we use from within the UK, Metal work from Daventry & Kettering, Volume controls from East Grinstead and our bare PCB's from Norwich etc. The products are still hand made and assembled in Northamptonshire, just as they always have been. We continue to export and you will find the ACS450 in many parts of the world.
Update: June 2017 - After much thought and deliberation I decided to retire. I have now sold the business to Coachtek in Bristol. Having started my apprenticeship with Radio Rentals way back in 1966, (straight after leaving school) and having worked mostly in Electronics ever since, I was due for a rest! A big thank you to all my customers and suppliers and the people who I employed and the many others I have worked with over the years.
12 & 24 Volt Audio & Video equipment for the Bus and Coach industry, that is easy to use, cost effective and reliable!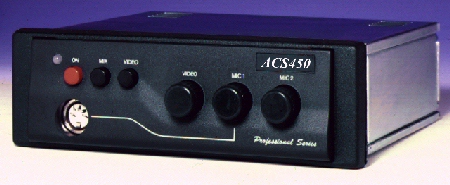 Just a little more .. History

Over the many years all three companies worked on and created many other projects.

A few that come to mind: We worked with Bassett Lowke (Northampton) on two projects, one was designing and manufacturing some signal indication for Singapore Railways 'Shunting' yard, for use in one of their control rooms. Another project was to create the audio section for a 'Ronnie Corbet' model that was to be displayed in all Royal Bank of Scotland branches, this played a short message to visiting customers, sadly this one never made it beyond their board room but it was great fun.. Zoo's and Safari parks, Hydro Electric Power Stations, you name we did it, that '450' got everywhere!. We also produced 'Oil level' timing controllers for Bijur Lubrication, this was to control a mist of oil during the machining of F1 magnesium wheels. As I remember we made them very cheaply .. less than £50.00, Bijur sold them for thousands or so we were told! During the first ten or so years we also did bulk car radio servicing for, Lucas/Radiomobile, Sonicare and the Ford Motor Company. Then there was the hundreds of car radio display stands for Charlie Browns and Halfords in the early nineties. We did also spend time making other amplifiers, Hi-Fi ones, many of which are still going my own included. More recently I have produced small quantities of Valve and Hybrid guitar amps all hand wired and again some are used with a local band that I play guitar with. I guess you never really stop if you are hooked on audio and I have been since I was about twelve and so despite retiring I still have a few idea's / projects to prevent boredom!


I can still be contacted for old times sake at the following email address:

Please note: I am unable to assist with old service manuals or instruction books as they no longer exist in my files.
Richard Pearce.
Website copyright Repco 2013. Updated Summer 2021